Join Canada's Most Profitable & Booming Healthy Snack-Food Vending Opportunity!
... And it's Just Getting Started
The current trends in healthier life-styles have created DEMANDS for healthier snack options in vending machines. We have answered the demands by creating HEALTHY CRAVINGS. You can NOW capitalize on the growing number of health-conscious consumers and workplaces that are supporting healthier eating.
Our machines are filled with low calorie, low carb, whole food snacks like organic nuts, custom trail mixes and a variety of healthier snack options. Rather than offering candies that satisfy the sweet tooth, our machines dispenses healthier snack options that satisfies the taste buds and waistlines.
INVESTING IN HEALTHY CRAVINGS HIGHLIGHTS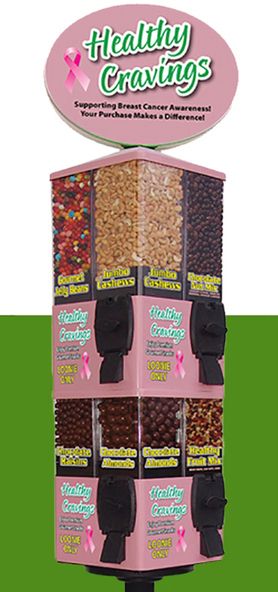 ? Low entry levels! Largest Location market in Canada
? Flexible schedules to fit your lifestyle
? Very High Profit Margins On Each LOONIE Vend
? Dispenses multiple choices of popular healthier snacks
? No commissions/rent to pay your locations. Keep all your profits
? Partner with Canadian Breast Cancer Network From Ottawa
? NO FRANCHISE OR ON-GOING ROYALTY FEES - ALL YOUR PROFITS TO KEEP!
? Promotes products that are good for you and your customers
? Your business is 100% set up. You approve each SECURED location
? Receive complete training and ongoing support
? Easiest of all vending machines to operate. LIFE-TIME WARRANTIES
? Partner with A+ BBB rated company and industry leader for over 30 years
? The Ideal-Passive-Income Opportunity For Novice-First Time Vending Owners!
Contact Us Today ... Be In Business Tomorrow
REQUEST INFORMATION TODAY TO GET STARTED!
PLEASE VIEW OUR INFORMATIVE TWO MINUTE VIDEO BELOW