The Company
Hickory Dickory Decks was established in 1987 and has grown into Canada's largest custom deck builder. With more people spending time at home and investing in their outdoor living space, there is no better time to join our team. We build beautiful custom projects for happy customers and with our competitive advantage on low maintenance decking, our projects are built to last. If working outdoors and satisfying customers sounds appealing to you, this might be a perfect fit.
.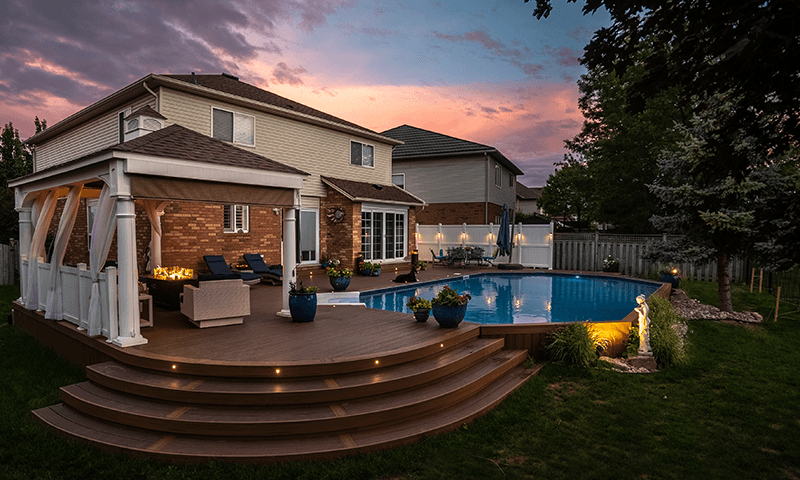 .
The Opportunity
Owning a Hickory Dickory Decks franchise provides the opportunity to be your own boss with a rewarding work-life balance. It is your chance to work outdoors and take great pride in your work – all while backed by a great brand and supported by an experienced and receptive head office team. And do not forget, being a carpenter is not a requirement of owning a franchise. We are almost sold out in Ontario; however, many lucrative territories are still available, do not miss your opportunity.
.
.
The Benefits
Enjoy a healthy outdoor work environment
Join the multi-billion-dollar home renovation industry
Seasonal business means long winter breaks
Spend more time with your family
Ability to own multiple territories
Support from Canada's largest and most reputable deck builder
Benefit from many proven systems
.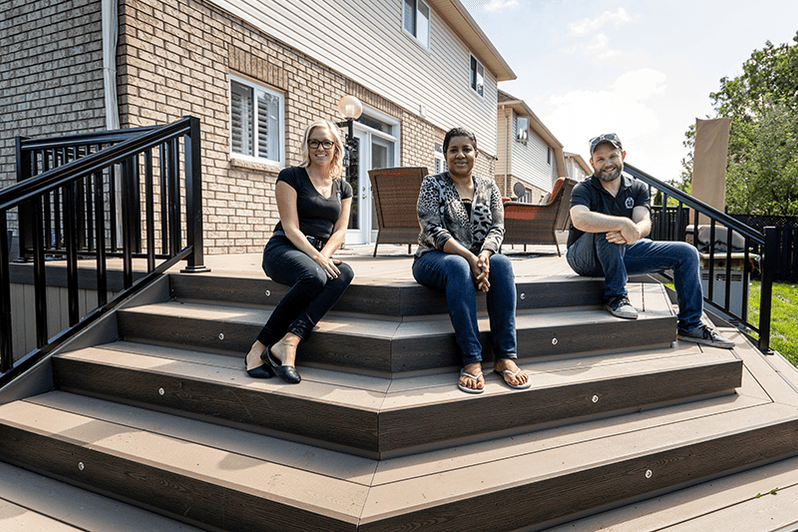 .
Testimonials
"As a franchise owner for Hickory Dickory Decks it has been extremely fulfilling to provide a service within my community, close to home. No more commuting. With a wide variety of high quality products we have a competitive advantage that can't be matched. HDD is a family oriented company that encourages a work/life balance. Franchisees are well supported with guidance and encouragement through ongoing professional development, provided by a head office team that is the most passionate and experienced in the country. The world class website and well managed marketing support consistently drives business to the franchisee. I wish I had discovered this franchise 10 years ago."
• Ian FitzGerald, Newmarket / South Simcoe
.
"A team member since 2006 and a franchisee since 2009, I have enjoyed a growing career with Hickory Dickory Decks. I've found working with so many fantastic customers and HDD staff make every day gratifying. Hard work and hundreds of great decks later, we've built a value and a great reputation in both our local market and on a world stage. If you enjoy construction and have a business savvy, I encourage you to explore the opportunity as I did, and join the HDD team."
• Adam Bloetjes, Durham County
.
"Owning a franchise with Hickory Dickory Decks has been very rewarding. Building high quality decks and outdoor structures and transforming people's backyards is very satisfying. I have been with HDD since 2008 and am still excited every time I start a project. Having my own franchise allows me to be my own boss, and set my own hours. Nothing is without hard work, but it pays well and is profitable. I couldn't have done it without the excellent support from head office and the HDD system."
• Ibrahim Moujaber, Ottawa East
.
"100% best purchase of my life! After doing my due diligence and investing, the Hickory Dickory Decks corporate staff continue to work for me and my teams' best interest for 5 years and counting. From advice, training, website leads and team building it just keeps coming."
• Peter Secord, Niagara
.

.
Request Information and learn more about becoming a Hickory Dickory Deck Franchisee!
.