.

.
Who we Are
Odd Burger is an exciting fast food vegan franchise concept that first opened its doors in December of 2016. We believe the future of fast food is vegan. Odd Burger has been franchising since 2019 and has plans to expand across Canada, North America, and eventually the world!
We are committed to partnering with like-minded entrepreneurs and supporting our franchisees in order to be successful and grow into multi-store operators. With brand recognition across Ontario from our food truck presence in various festivals, you will benefit from the loyal customer base and brand following we have curated since 2016.
.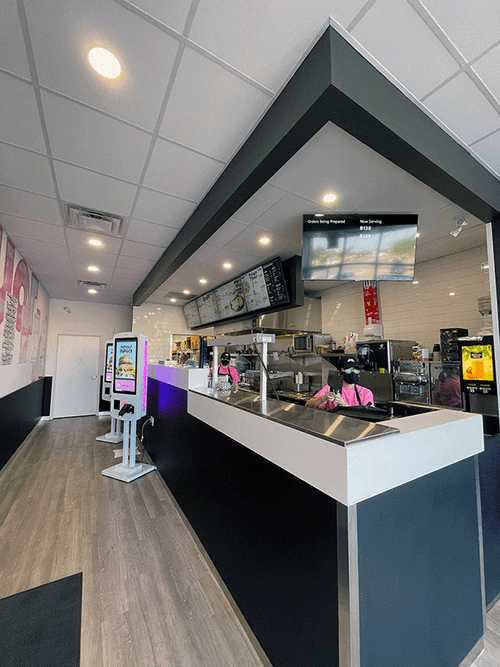 .
What we offer
Our Food
As a franchisee, you can count on vegan food experiences that customers can't get anywhere else. We have created some of the most delicious tasting plant-based fast food in the industry, manufactured from our very own production facility. All of our food is made in-house using all-natural and unprocessed ingredients. We specialize in making plant-based versions of iconic fast food. Fan favourites include our breakfast sandwiches, stacked burgers, fried chickUn burgers, wingalings, sundaes, shakes, and our loaded fries (to name a few!). We are consistently innovating to create new and incredible vegan options for our restaurants.
.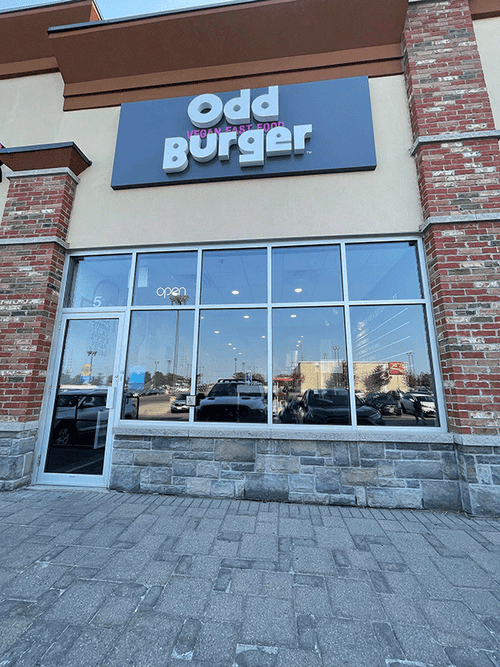 .
Our Marketing & Brand
Our strategic marketing campaigns across multiple platforms help to keep customers engaged with our brand and our food. We strive to grow our brand through strong marketing strategies, professional signage and menu boards, branded packaging, and by building a culture of fun and inclusiveness within our stores and throughout our branding.
Odd Burger franchisees will benefit from a large and engaged social media following and a data-driven marketing team. This gives us the ability to create excitement and drive demand for new franchised locations before our franchisees have even opened their doors.
.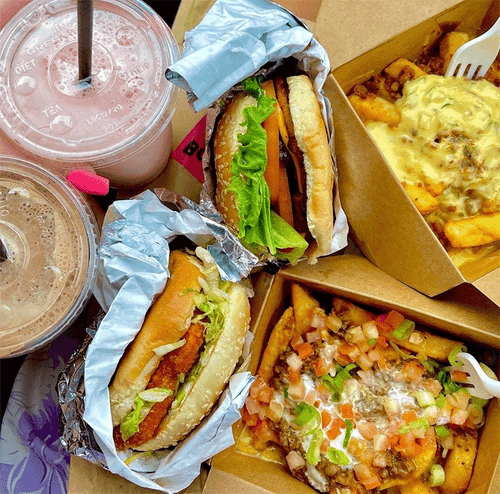 .
Technology & Training
Technology and training are pillars of our business. Franchisees have access to our comprehensive online training platform, allowing you to quickly and easily train staff. You will also have access to our cutting-edge technology via our point of sale system, back of house order management system with kitchen displays, self-check-out kiosks, cloud-controlled music systems, digital menu boards, and staff task management systems.
We also utilize cutting-edge cooking technology in-store, which allows our franchisees to make the majority of our menu items at the press of a button. This gives us the ability to deliver quick and consistent food to our customers on every visit.
.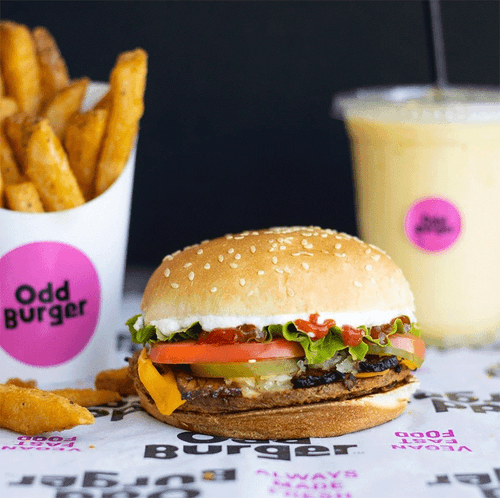 .
Innovative Store Design, Strategic Growth Planning, Turn-Key Operation
As a franchisee in the Odd Burger system, you will benefit from our newly designed store concepts that capitalize on the changing market forces brought upon us by the global pandemic. We utilize a compact store design that is tailored for take-out and delivery business, with store sizes ranging from 750-1200 square feet. Our self-checkout kiosks allow our restaurants to operate with as little as a single staff member on-site which allows our franchisees to better control costs and maximize profits.
Our resilient store model is matched by our dynamic growth plan. Our experienced real estate team and our market intelligence allow us to secure high-quality real estate opportunities in major markets and trade areas. We target street-level stores that provide easy and safe access to our restaurants for both delivery drivers and customers. Our stores are located in high traffic (both vehicular and pedestrian) areas with major anchors and strong co-tenancies, while also strategically located to maximize delivery volume.
Finally, we offer a turn-key solution to franchisees by sourcing and securing real estate, negotiating deals with favourable terms, and managing our store build outs. This allows us to ensure we deliver quality and value for our franchise partners at all levels.
.
Contact us by clicking the "Free Info" button to talk about available markets
and opportunities to own your own Odd Burger franchise.
.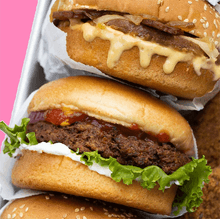 .
Let's get growing!
.