FRESH HEALTHY CAFÉ
FRANCHISES AVAILABLE IN
CANADA NOW
If you're hungry to make a difference in the food industry, learn more about this unique healthy fast-casual food franchise here.
FRESH was formed in 2008 by Jeff Parker. He saw a gap in the market when he noticed there were very few quick-serve restaurants (QSRs) offering high quality fresh and healthy food and drinks. To this day, we have seen incredible success and growth in this category. But while other QSR categories are over-saturated, FRESH has an incredible niche which is growing very quickly as the masses continues to crave fresh and healthy foods and drinks to energize their busy lifestyles.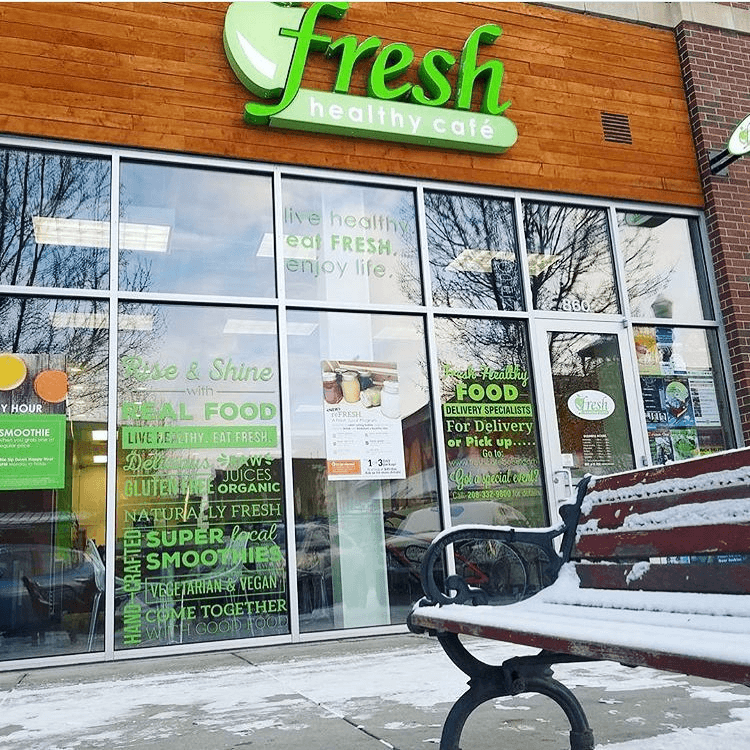 Our restaurants are 'lean and mean', meaning smaller spaces in busy daytime traffic areas focusing on walk-in, pick-up and take-out, delivery and catering. By limiting seating, we significantly reduce both set-up costs and on-going overheads. Some restaurants come with a small indoor and/or outdoor seating area, while others have no seating, depending on their location. We are also targeting smaller drive-thrus.
A great location and set-up is the simple but effective combination, along with our incredible QSR concept: Freshly prepared healthy food and drinks including smoothies, fresh juices, protein bowls, wraps, salads and paninis, all served in appealing environmentally friendly to-go packaging.
All our food and drinks are simple to prepare, so we can accommodate heavy volume, especially over peak times. A key to our success is not only our busy breakfast, lunch and dinner business, but our super smoothies and freshly squeezed juices bring in steady business from morning to night.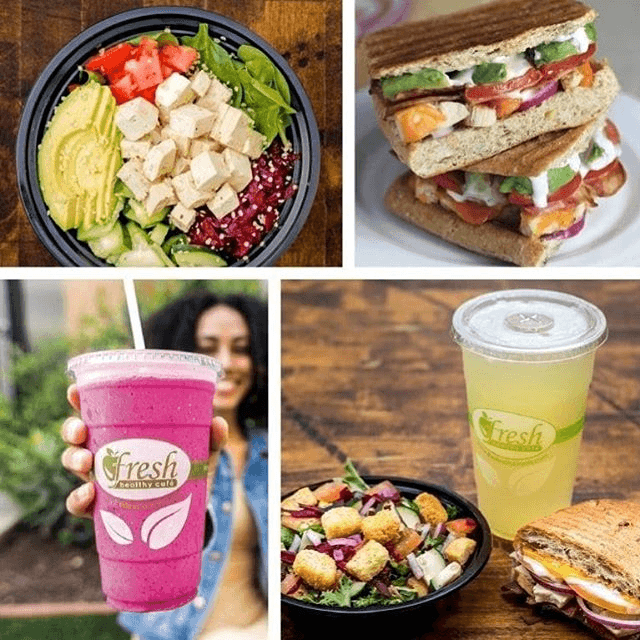 We have a menu unlike anything on the market. Our competitors are either doing healthy food or healthy drinks or healthy drinks with pre-packaged sandwiches and snacks.
Healthy customers want everything together, fresh and made in front of them, and that is precisely what we do. This straightforward but vital USP gives FRESH a major competitive advantage over other healthy QSRs. Menu items are prepared quickly and easily with no cooking on-site whatsoever! The only heating is done by quick steamers which are both healthy and efficient.
FRESH comes with low set-up costs because of our set-ups in smaller spaces that focus on take-out and delivery – an uncomplicated yet beautifully effective design.
FRESH serves the rapidly growing number of consumers who want a quality food and drink experience. This healthy QSR category is very underserviced, so we take great pride in our simple, fresh and healthy menu all served at reasonable prices.
We target healthy-minded consumers on the go – a booming and growing demographic. Our smoothies and fresh juices are also extremely popular.
Incredibly high-demand and growing menu offerings
Simple to prepare with no cooking on site
Menu offerings that perfectly complement each other and attract steady traffic all day long
Excellent support systems
A minimum of $125,000 in liquid cash
A willingness to engage with customers and work with your employees in a constructive manner
High energy, motivated and fun – just like our customers
.
"Our Fresh Healthy Café at Saint Francis Medical Center is a partnership dream come true. We are provided with the opportunity to serve superior, all-natural food in a climate that embraces health and fitness. Since opening, our Fresh Healthy Cafe has become the "buzz" within our community and a healthy dining destination for employees, patients and community members. Hardly a day passes where a customer doesn't thank us for bringing the Fresh experience to our community."
Rick Hetzel & Cheryl Mothes, Fresh Master Franchisee – Missouri
Franchise Fee: $30,000
Minimum Investment: $220,000 to $340,000
Minimum Liquid Capital: $125,000